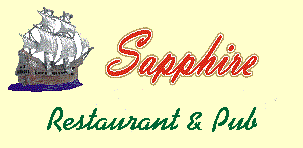 24 St. John's Road, Bay Bulls, NL A0A 1C0
Phone: 709-334-1171
Email: sapphireeatery@nf.sympatico.ca
Sapphire Restaurant & Pub
The Sapphire Pub and Eatery (Restaurant) is located at 24 St. Johnís Road, Bay Bulls, NL (directly behind Foodland) opened its doors for business in April, 2001.
The structure was originally built in 1942 by American service men and was used as a barracks.
The Hedderson's purchased the building and have done extensive renovations making it a very pleasant environment including relaxing on the leather sofa in front of the fireplace or on the deck, catching your favorite program on the big screen TV or just enjoying a game of pool or darts.
During peak season the restaurant and bar employs up to 8 local residents. That offer superior service including catering to weddings, business functions, fundraising events and holiday parties. The building can accommodate up to 150 people with more space available on the 2 large decks that are ideal for summer barbeques. The Sapphire Pub and Restaurant have attractions that tourists can enjoy such as a display of artifacts retrieved from the surrounding area, With the Pub, featuring weekend entertainment and food specials at night including wing and pizza nights.